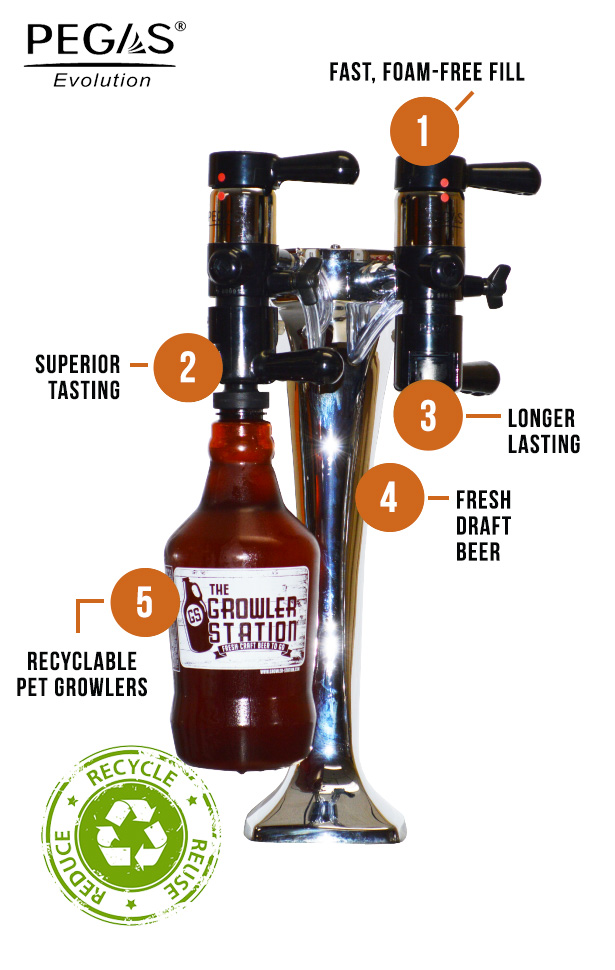 1: Fast Foam-Free Filling
Standard growler filling procedures always result in excessive foam, increased waste, and an overall messy experience. With the Pegas Evolution filler, waste and foam are eliminated, producing a longer lasting, better tasting growler.
2: Superior Taste
By purging the oxygen in the growler and replacing it with CO2 prior to the beer fill, there will be no oxygen left to break down the beer. The overall process, mixed with air-tight filling and increased shelf life will result in superior taste.
3: Longer Lasting
Through the filling process, the Evolution allows for the growler to retain the same environment from the keg to the bottle, thus never allowing the beer to oxygenate and break down. The result is a fresh growler with up to 30-45 days shelf life.
4: Fresh Draft Beer
The core of The Growler Station rests on our superior product quality designed to deliver the freshest craft beer to go, ready to be taken home and enjoyed with friends and family.
5: Recyclable PET Growlers
Aside from being environmentally friendly, PET Growlers are highly convenient and easier to transport or carry along to outings and events where glass is typically prohibited. All around, the Pegas Evolution offers a unique option for serving fresh craft beer to go.